POSTED ON October 14th, 2013 - by

Momatus
No Comments »
What could be a more appropriate use for salvaged wood than use in a recycled greenhouse? Once a thriving organism in its own right,timber rescued from wine barrels, barns, old doors and retaining walls can become a shelter for developing seedlings. Based right her on the Central Coast, A Place to Grow recognizes the potential in scrapped wood and bestows upon the material a new life as an environmentally conscious greenhouse, shed, or outdoor studio space.
Operated by San Luis Obispo residents Dana and Sean O'Brien, the company prides itself on finding a solution to construction waste and creating beautiful bespoke structures. Dana boasts a finance degree from Cal Poly SLO, over 20 years as a government employee, and an active role in Habitat for Humanity. Sean graduated with a degree in computer science from Cal Poly, has been a software engineer for more than 25 years, and possesses a California contractor's license. Together, the O'Briens created their business to pursue their passions for eco-friendly building.
A Place to Grow has been honored by the Martha Stewart American Made Contest, and has created greenhouses for Sage nursery in Los Osos and private residences up and down the Central Coast. For more information, contact A Place to Grow through their website, or email Dana at dana@recycledgreenhouses.com.
POSTED ON October 10th, 2013 - by

Momatus
No Comments »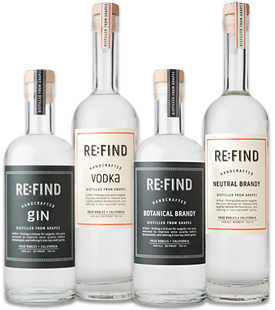 Halloween must be one of the year's best holidays. Children and adults alike have an excuse to dress as the characters and creatures they most wish to embody, and go house-to-house in pursuit of treats. For the kids, candy is the reward of choice. For those over 21, a good cocktail helps celebrate the night of spirits. For Bambu Batu's next Art After Dark Celebration on November 1 from 6-9pm, we will be holding hard alcohol tastings from Re:Find in Paso Robles. The evening will also feature astrology readings from celestial superstar Harry Farmer and Tarot card reading by Francesca, plus live music and prizes for the best costumes.
Re:Find Handcrafted Spirits from Paso Robles uses saignée, or the free-run juice from grapes removed prior to fermentation, to produce their vodka, gin, and brandy. The juice is triple distilled to create the highest small-production spirits.  The company is the result of Alex and Monica Villicana's efforts to promote sustainability through using an often ignored artisan product. While most gins and vodkas are made from grain and sometimes potatoes, grapes produce glycerol which are responsible for the "legs" found in wine. The unique base accounts for their unique flavor profiles as well as providing locavores a handcrafted option for their liquor cabinet.
For more information, or to find a location where Re:Find is sold, check out their website, call: 805.239.9456, or  email: monica@refinddistillery.com. Tours and tastings are offered from 11:am to 5pm daily at their distillery located at 2725 Adelaida Road, Paso Robles, CA 93446.
POSTED ON October 5th, 2013 - by

Momatus
No Comments »
There is no doubt that the earth and human beings are intertwined. However, our species certainly has a knack for pretending as if this were not the case. The Bioneers Network brings together leading thinkers from around the world to help heal the divide between nature and people.
The Central Coast chapter of the Bioneers network will be holding a conference this October 25-27 at he historic Monday Club on Monterey Street, with the theme of "Turning Vision Into Action". Lectures will focus on eco-science, social and environmental activism, food and farming, women's leadership, economics, and restoring ecosystems. All major events from the national meeting in San Francisco will be simulcast in SLO. The local keynote address will be given by Drew Dellinger, founder of Global Poets for Justice. Special guest Nina Simons, author of Changing the Story & Igniting Leadership: Mobilizing Change for a Healthy, Just & Resilient Future will also speak during the gathering. Our good friends the Mother Corn Shuckers will provide musical entertainment with the unique, foot-stomping sound of what they like to call "beergrass".
Bambu Batu is delighted to be selling tickets for the Central Coast Bioneers Conference. We will be offering five different passes here at the store in SLO. Prices range from $85-$300, and student discounts are available. Attendees ride free to and from Cal Poly with their badges. Payments are accepted in person by cash or check only.
Want to learn more about the Bioneers movement? Visit the website for the official schedule, and tune into local public radio station KCBX every Monday at 1pm to become inspired!